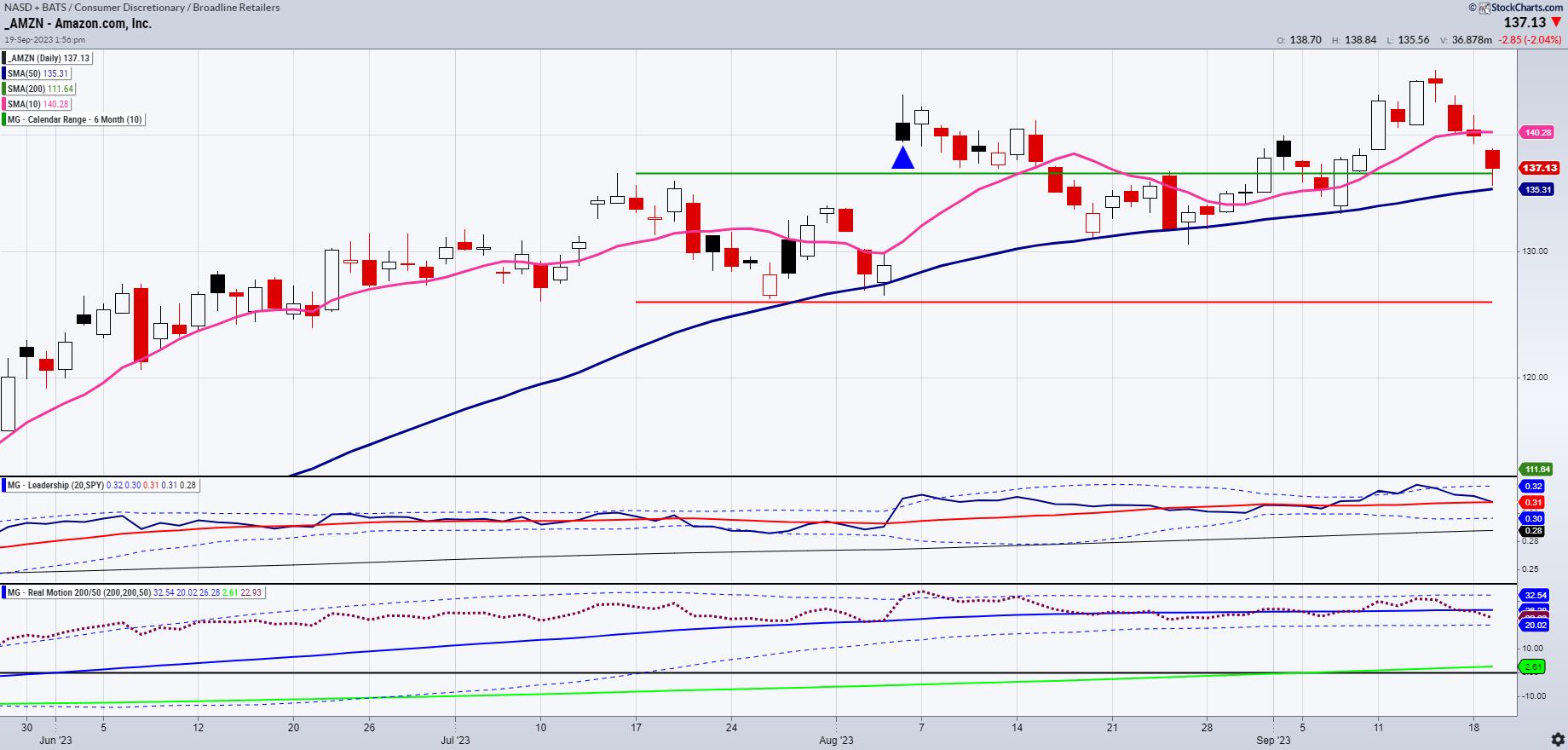 While the UAW strike continues, and the debate on how much it matters in the scheme of things rages on, other wage trends are emerging.
Amazon (AZMN) today announced it will hire about 250,000 logistics personnel for the holiday season at a wage of $20.50 per hour. The Amazon chart shows a retracement to the July 6-motnh calendar range high and the 50-DMA. However, there is a bearish divergence on our Real Motion (momentum) indicator. This could mean price is vulnerable to break under the key support levels or 135.30. It could also mean that if prices improve from here, momentum might improve.
Nonetheless, this remains to be seen after today's announcement that could hit the bottom line for Amazon, especially if the holiday season is not all that.
After 40 years of wages not keeping up with inflation or the cost of living, we started thinking: Is the next wave of hyperinflation emerging from wages, and not necessarily just from high food and energy prices?
To explain:
Scenario 1. More and more workers demand higher pay, companies are forced to comply. These companies must reduce their production thereby tightening supply. Demand remains robust with the added wages and stronger labor market; hence, the cost of goods goes up.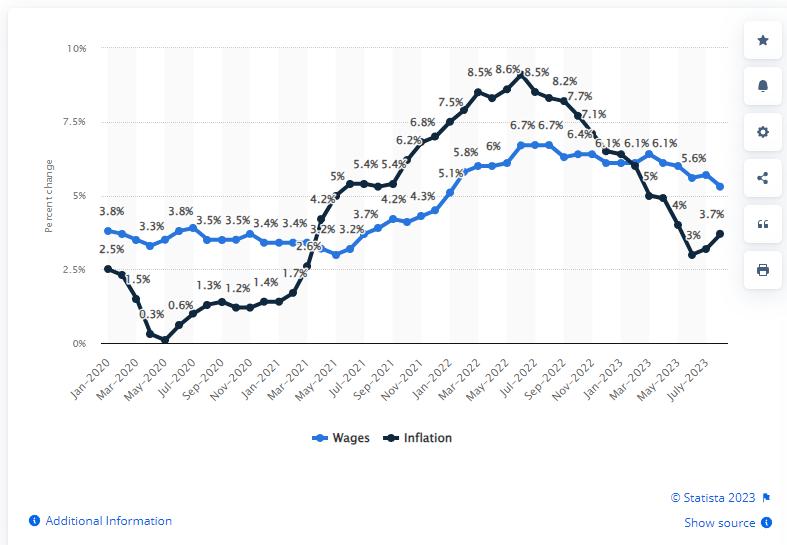 Scenario 2. Wages soften, as seen in the chart, since March 2023 and inflation does not come down much more (in fact it is rising). Workers do not get a higher income. Workers begin to leave their jobs, or quietly quit. Companies must reduce their production, thereby tightening supply. Demand continues to outstrip supply (although not as much as in scenario 1) with the lack of wage growth; hence the cost of goods goes up anyhow due to social unrest. Social unrest tends to create hoarding.
This is a theory, of course. This theory, though, is based on the trend which started in the summer and is continuing into the fall — demand for higher pay!
---
This is for educational purposes only. Trading comes with risk.
For more detailed trading information about our blended models, tools and trader education courses, contact Rob Quinn, our Chief Strategy Consultant, to learn more.
If you find it difficult to execute the MarketGauge strategies or would like to explore how we can do it for you, please email Ben Scheibe at Benny@MGAMLLC.com.

"I grew my money tree and so can you!" – Mish Schneider
Get your copy of Plant Your Money Tree: A Guide to Growing Your Wealth and a special bonus here.
Follow Mish on Twitter @marketminute for stock picks and more. Follow Mish on Instagram (mishschneider) for daily morning videos. To see updated media clips, click here.
---
Mish talks Coinbase in this video from Business First AM!
Mish Looks at some sectors from the economic family, oil, and risk in this appearance on Yahoo Finance!
Mish Covers oil, gold, gas and the dollar in this CMC Markets video.
In this appearance on Business First AM, Mish explains why she's recommending TEVA, an Israeli pharmaceutical company outperforming the market-action plan.
As the stock market tries to shake off a slow summer, Mish joins Investing with IBD to explain how she avoids analysis paralysis using the six market phases and the economic modern family. This edition of the podcast takes a look at the warnings, the pockets of strength, and how to see the bigger picture.
Mish was the special guest in this edition of Traders Edge, hosted by Jim Iuorio and Bobby Iaccino!
In this Q3 edition of StockCharts TV's Charting Forward 2023, Mish joins a panel run by David Keller and featuring Julius de Kempenaer (RRG Research & StockCharts.com) and Tom Bowley (EarningsBeats). In this unstructured conversation, the group shares notes and charts to highlight what they see as important considerations in today's market environment.
Mish discusses AAPL in the wake of the iPhone 15 announcement on Business First AM.
Mish explains how to follow the numbers in oil, gas, gold, indices, and the dollar daytrading the CPI in this video from CMC Markets.
Mish talks commodities, and how growth could fall while raw materials could run after CPI, in this appearance on BNN Bloomberg.
In this appearance on Fox Business' Making Money with Charles Payne, Mish and Charles discuss the normalization of rates and the benefit, plus stocks/ETFs to buy.
Mish chats about sugar, geopolitics, social unrest and inflation in this video from CNBC Asia.
Mish talks inflation that could lead to recession on Singapore Breakfast Radio.
---
Coming Up:
September 20: Mario Nawfal Spaces, 8am ET
September 21: Your Daily Five, StockCharts TV
September 22: Benzinga Prep Show
October 29-31: The Money Show
---
ETF Summary
S&P 500 (SPY): 440 support, 458 resistance.
Russell 2000 (IWM): 185 pivotal, 180 support.
Dow (DIA): 347 pivotal, 340 support.
Nasdaq (QQQ): 363 support, and over 375 looks better.
Regional banks (KRE): 44 pivotal, 42 support.
Semiconductors (SMH): 150 pivotal, 145 support.
Transportation (IYT): Needs to get back over 247 with 235 support.
Biotechnology (IBB): Compression between 124-130.
Retail (XRT): Weak especially if this breaks down under 57, the 80-month moving average.
Mish Schneider
MarketGauge.com
Director of Trading Research and Education